Experience the ultimate portable audio solution with EarMen Angel, a fully balanced Hi-Res DAC and headphone amplifier that offers exceptional performance on the go. Designed to deliver powerful and pristine audio, Angel ensures you can enjoy high-resolution music wherever you are. Elevate your listening experience and let your music soar with EarMen Angel!
Features
Fully balanced

Great features

Extremely durable

Gain + 

Line Out Balanced option

Powerful Battery

Quality workmanship made in Europe
Uncompromised Sound Quality
Featuring the ESS DAC ES9038Q2M, Angel sets new standards in audio performance. With excellent Signal-to-Noise Ratio (SNR) and Total Harmonic Distortion plus Noise (THD + N) characteristics, it outshines its competitors. Combined with the latest XMOS USB receiver, Angel is capable of decoding up to 768kHz/32-bit PCM, DSD256 via DoP, and MQA Studio, ensuring you have access to every detail of your music library.
Purely Balanced Design
Angel is a fully balanced device, maintaining the integrity of the audio signal from the DAC to the headphone output. With no additional capacitors or components in the signal path to introduce distortion, the sound reproduction is nothing short of captivating. Immerse yourself in an audiophile-grade audio experience with EarMen Angel.
Unleash the Dynamics
Experience incredible dynamics with Angel's impressive 120dB dynamic range, bringing your music to life with a level of realism akin to a live performance. The device boasts a linear power supply with ultra-low noise, ensuring a pristine and transparent sound signature. Once you hear the sound quality delivered by Angel, you won't settle for anything less.
Power That Lasts
Equipped with a robust two-cell battery (2x3000mAh), EarMen Angel provides extended listening sessions without worrying about battery life. With a charging time of under 3 hours, you can quickly recharge and enjoy uninterrupted music playback. The separate DATA and USB charging ports allow Angel to operate continuously while on the charger, ensuring you can enjoy your music all day long.
MQA Studio quality audio
Angel supports Tidal Masters (MQA)
MQA (Master Quality Authenticated) is an award-winning British technology that delivers the sound of the original master recording. The master MQA file is fully authenticated and is small enough to stream or download. Visit mqa.co.uk for more information.
Gain + for Maximum Performance
Activate the Gain + mode to unleash even more power, volume, and dynamic sound. This option offers precise volume control, making Angel compatible with both sensitive and insensitive headphones. Tailor your listening experience to perfection with EarMen Angel.
Versatile Headphone Options
Angel offers a range of headphone output options, allowing you to choose the one that suits your preferences. Whether you prefer the convenience of a 3.5mm single-ended output or the superior audio performance of a balanced 4.4mm output, Angel automatically recognizes your selection, ensuring seamless integration with your favorite headphones.
Line Out Flexibility
With its exceptional features, Angel can also serve as a preamp for your home audio system. The line-out option provides the versatility to connect Angel to your amplifier or other audio devices. Choose between single-ended or fully balanced outputs based on your setup and preferences. Angel empowers you to customize your audio experience.
Unleash the Power of Portable Hi-Res Audio with EarMen Angel
Embrace the freedom of high-resolution audio on the go with EarMen Angel. Immerse yourself in pristine sound quality, unparalleled dynamics, and versatile connectivity options. Elevate your portable audio experience to new heights with EarMen Angel - where exceptional performance meets portability.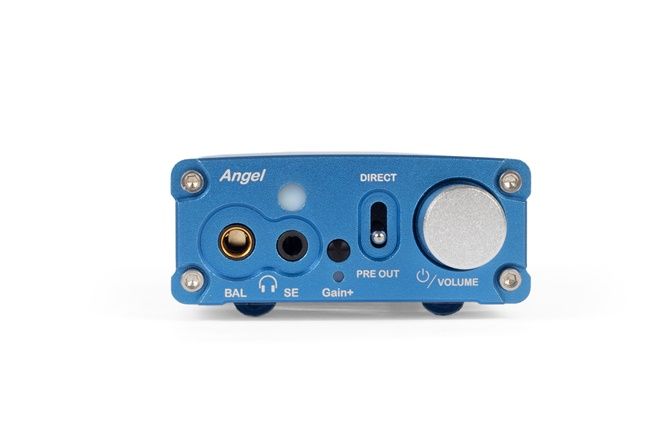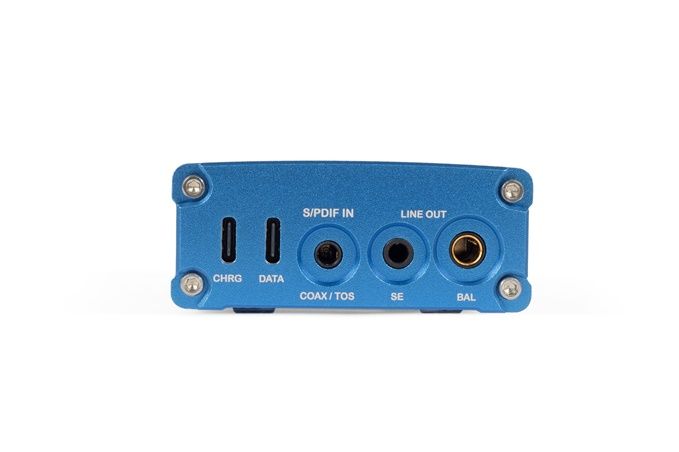 | | | |
| --- | --- | --- |
| Inputs | USB C Female | DATA |
|   | USB C Female | Charging |
|   | S/PDIF | COAX/TOS |
|   |   |   |
| Outputs | Single End | 3.5mm |
|   | Balanced | 4.4mm |
|   |   |   |
| DAC | ES9038Q2M |   |
|   |   |   |
| Audio Formats | DSD | 256 DoP / Native DSD 512 |
|   | DXD | Up to 768 kHz |
|   | PCM | Up to 768 kHz |
|   | MQA Hardware Decoder          | OFS, MQA, MQA Studio, MQA Auth |
Headphone Single-end output with Gain+
USB input

 

S/PDIF input

Output Level

7.2Vrms 0dBFS
7.2Vrms 0dBFS

THD+N

0.004%
0.004%

SNR

>120dB
>120dB
A-Weighted
A-Weighted

Freq. Response

±0.2dB
±0.2dB

DNR

>120dB 

>120dB 
Headphone Fully Balanced output with Gain+
| | | |
| --- | --- | --- |
|   | USB input |  S/PDIF input |
| Output Level | 8.5Vrms 0dBFS | 8.5Vrms 0dBFS |
| THD+N | 0.002% | 0.002% |
| SNR | >119dB | >119dB |
|   | A-Weighted | A-Weighted |
| Freq. Response | ±0.2dB | ±0.2dB |
| DNR | >119dB | >119dB |
Line Single-end output 
| | | |
| --- | --- | --- |
|   | Direct Out | Pre Out |
| Output Level | 1.5Vrms 0dBFS | 7.2Vrms 0dBFS |
| THD+N | 0.005% | 0.004% |
| SNR | >120dB | >120dB |
|   | A-Weighted | A-Weighted |
| Freq. Response | ±0.2dB | ±0.2dB |
| DNR | >120dB | >120dB |
Line Fully Balanced output
| | | |
| --- | --- | --- |
|   | Direct Out | Pre Out |
| Output Level | 3Vrms 0dBFS | 8.5Vrms 0dBFS |
| THD+N | 0.003% | 0.002% |
| SNR | >119dB | >119dB |
|   | A-Weighted | A-Weighted |
| Freq. Response | ±0.2dB | ±0.2dB |
| DNR | >119dB | >119dB |
    Charging the battery
When charging via a wall outlet, use a USB power adapter (not included in the product set) 5V/1A - 2A. Fast Charging is not supported. Only use an adequately safety approved USB power adapter. 
Behind the product
Behind the Angel stands our engineer Filip Tot, which is the main culprit for the creation of this device. Read his words below:
"I have been with Auris for more than 4 years. The arrival itself is a story unto itself. I had very little experience as a young engineer when I applied to the company HCP, which deals with the development and production of cash registers. During the conversation, I met my current colleagues as well as Milomir Trosic who presented some of his views on the company in the future and me as a worker in it. I liked the enthusiasm because I am a great optimist, so I accepted the job and within 4 days moved 350km away to the town of Krusevac, about which I knew almost nothing, and now I live in it and started a family. Miki very quickly recognized some of my qualities that I probably hadn't seen myself, so he transferred me to the audio sector, which I knew very little about, I didn't even understand the people who buy such expensive devices and I admired them. I got a lot of support and patience, and I returned it with tireless work because I recognized the potential of the company and what it needs. During these years I worked on many amplifiers together with Miki and other colleagues, such as Headonia, Nirvana, Euterpe, Legato, Ha2-SF ... Somewhere my contribution was bigger, somewhere smaller, but it was not so important as long as we went the right way. 
Earmen's birth came like lightning after radiation, it was so natural. We wanted to reach more people because we had a lot of good to offer. We improved our knowledge of designing tube amplifiers, so we got the first devices, such as TR-Amp, Sparrow, Eagle ...
From the very beginning, we set out with all our might in search of the perfect sound, like a gold rush. That's why we pay a lot of attention to subjective feeling, not just measurements. Whenever I work on something I always stick to our motto: Sound above all.
The path that Auris has traversed since its founding, and now Earmen as well, is special because we started many things from scratch, and our goal is to reach the top. We work tirelessly on new devices to try to share the happiness and excitement we feel when we first listen to them.
One of those devices is Angel, which I worked on for more than a year, looking for the perfect combination of components and a result that would not leave anyone indifferent. I wanted it to be perfect: multifunctional, with a lot of power, a big battery and beautiful sound. From the beginning, the solution seemed to be at my fingertips, but even when everything worked perfectly, the sound was not what I was looking for. I didn't sleep, I read until late at night, sometimes I was shocked but my colleagues supported me, so I continued that battle even when we all thought that there were no solutions to some things and that they had to be like that. It was only when I put it aside and relaxed that the idea for a completely different concept was born that brought us a handful of dynamics, Low Noise and distortions. The sound was absolutely beautiful. 
I used to think that many things were illusions and exaggerations, but now I know that creating such devices is sometimes as much art as the songs that are played on them.