Features
Small size and attractive design
Cirrus Logic CS43198 DAC
Full format support, including PCM & MQA
Complete and accurate sound
Ability to add external power without noise
Powerful internal amplification
Desktop mounting stand
Quality workmanship made in Europe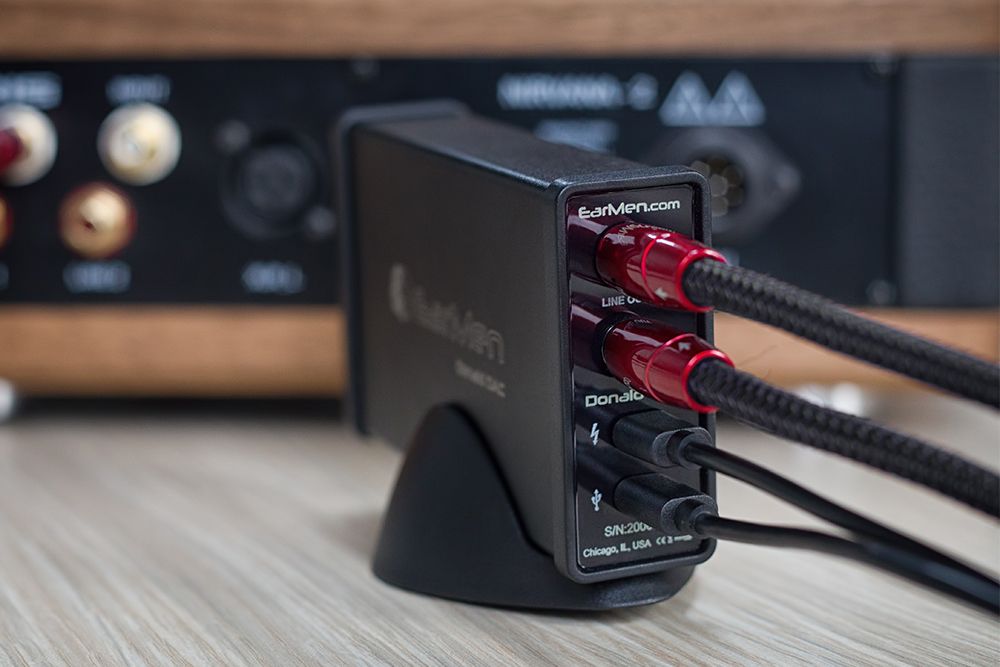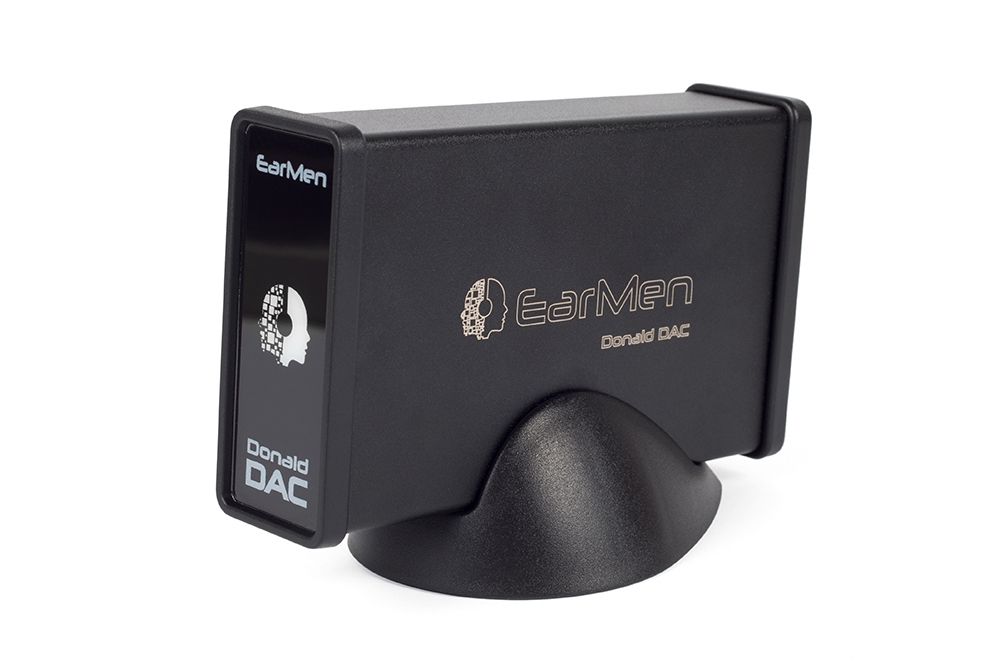 Design
Despite its small size, the Donald DAC is designed to provide a powerful audio experience while featuring an attractive and streamlined physical appearance. The body of the device is made of metal for supreme durability, with high-gloss plastic enhancing the end caps and trimmed frames. Although it can be mounted horizontally at the user's preference, the Donald DAC is designed to stand upright, as evidenced by the inscriptions on the unit and the mounting stand that comes standard with every package. With a detailed construction manufactured to the highest standards in a European factory, Donald DAC's build quality exceeds the standards of its price range and ensures a timeless design built for years of functional use.
An increasingly popular USB-C port is used for both computer/device connection and charging, with analog audio output handled via standard RCA.
The inside of the device is filled with a printed circuit board, featuring a XMOS 200 series USB controller and a 32-bit CS43198 DAC Chip of the American company Cirrus Logic for digital to analog conversion.
Sound
The most important feature of the device is its ability to provide clear and full-spectrum audio conversion. Donald DAC uses the latest state-of-the-art hardware and software solutions in its construction, all of which come together to provide a natural and detailed listening experience.
The mid and high range frequencies beautifully complement the lowest tones, with consistent balance across all spectrums, resulting in a comprehensive sound image without the impression of any "missing" aspects of the music. The tones are displayed directly and without beautification, so whatever device you choose to use will be reflected accurately as intended by the designer.
Donald DAC shines through with excellent separation and pronounced stereo effect, while keeping all frequencies balanced during complex listening sessions.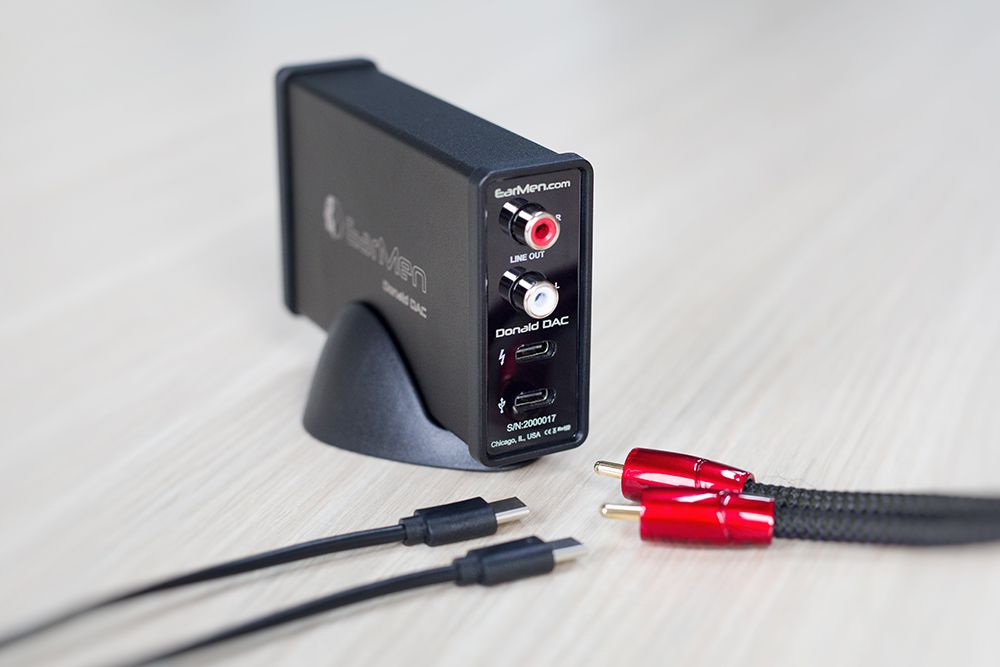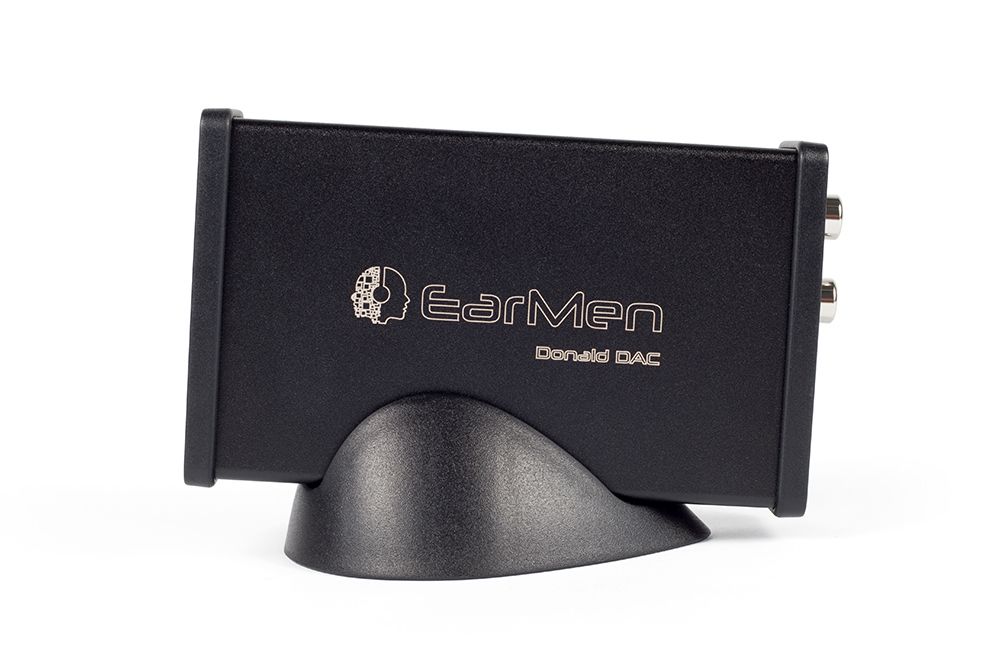 Dual Power Supply Option
Donald DAC can be powered either directly from your device (i.e. Computer), or in combination with an external source. By combining with external power, the sound will enjoy even better definition, with more vivid & sparkling tones present throughout the range. The color and discreet overlays between the tones will become more pronounced, and the feel of the sound will become more powerful and energetic. The device features an indicator light to quickly reference which power source is being utilized, illuminating blue for computer/device power and red for the presence of external power.
Technical Specs
Supported formats:
PCM 384kHz/32bit
DXD
MQA Rendering
DAC: 32 bit Cirrus Logic CS 43198
USB: XMos 2XX
Input: USB-C - DATA/Power Supply, USB-C - External Power Supply
Output:  RCA
Dimensions: L * H * W (mm) 114 x 80 x59