EarMen is coming up with NEW sophisticated DAC with wide range of abilities to offer. EarMen Tradutto is a piece-of-art device with the power to Enhance Sonic Performance of your system.
The ES9038Q2M DAC allows outstanding sound performance and easily handles digital audio files up to 32bit/768kHz or DSD512. Furthermore, the whole circuit is optimized to draw less current and improve power filtering, resulting in low interferences from Wi-Fi, cellular, and Bluetooth signals.

Gold Plated PCB - Not only does it give a good clean low resistance contact, but the perfect flat surface.

Digital optical, digital coaxial and USB inputs - connect CD players, phones, tablets, games consoles, laptops or other digital audio sources – just play it!
Built in Qualcomm HD Bluetooth 5.1 (AAC/SBC/aptX/aptx LL/aptx HD ) 

MQA Supported: OFS (MQB/MQA Core, decoded file), MQA (MQA file that is hardware decoded in our device and then rendered), MQA Studio (the same as MQA, just with the consent of an author or production company)

XMOS 16-Core chip (XU216) - 

has enabled us with its excellent performance a hardware decoding MQA, as well as other necessary functions for listening to music (

delivers double the clock speed (2000MIPS) and four times the memory (512KB).
TRADUTTO is fully balanced, which means that the balanced outputs from the DAC go to the output intact, only amplified.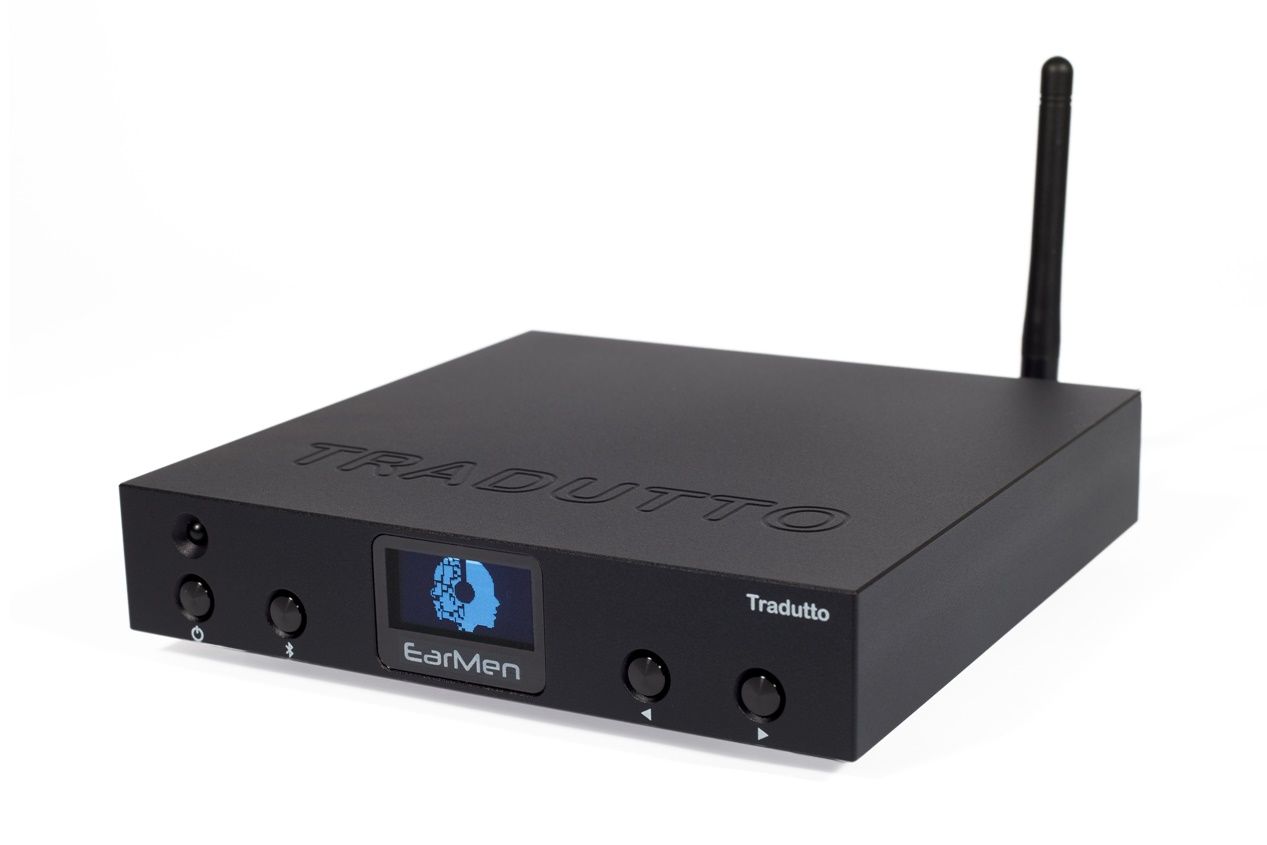 All the sources
Tradutto lets you enjoy music from any source, such as Coaxial, USB, TOS Link connections or HD Bluetooth. Wherever songs are played from, TRADUTTO stays true to the character of every instrument and uncovers a musicality you've never heard before. It offers a variety of options and freedom of choice that you can customize to your own sensibilities and possibilities.
Outstanding audio performance
 At the heart of Tradutoo is the extremely high-quality ESS Saber digital-to-analog converter ES9038K2M that delivers outstanding sound performance that can process digital audio files up to 32bit/768kHz or DSD512, so you can enjoy high-resolution music in every detail. EarMen Tradutto is designed for true audiophiles.
MQA Studio quality audio
MQA Support: 'OFS' confirms that the product is receiving an MQA stream or file. This delivers the final unfold of the MQA file and displays the original sample rate.
'MQA' or 'MQA Studio' indicates that the product is decoding and playing an MQA stream or file, and denotes provenance to ensure that the sound is identical to that of the source material.
'MQA Studio' indicates it is playing an MQA Studio file, which has either been approved in the studio by the artist/producer or has been verified by the copyright owner.
MQA (Master Quality Authenticated) is an award-winning British technology that delivers the sound of the original master recording. The master MQA file is fully authenticated and is small enough to stream or download. Visit mqa.co.uk for more information.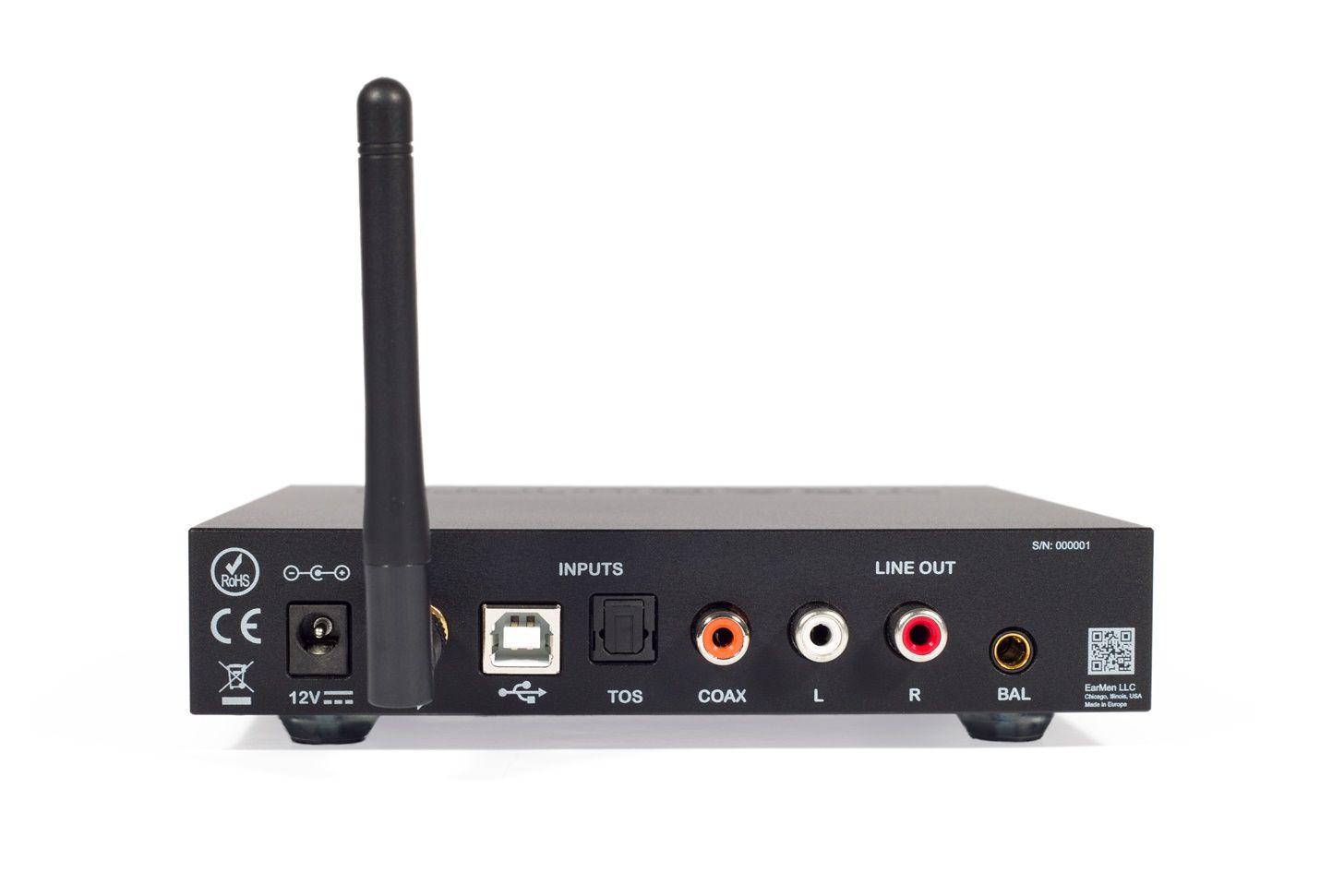 Qualcomm QCC5124 Flagship Chip
 BlueTooth QCC5124 is a part of the QCC5100 Low Power Bluetooth Audio SoC Series.  It is designed to meet demand for robust, high quality, wireless Bluetooth listening experiences in small devices with low power consumption for longer audio playback.Qualcomm® aptX™ audio, aptX HD, and Qualcomm aptX Adaptive audio technologies are designed to deliver consistent, high quality audio streaming over Bluetooth.
Exceptional workmanship
Tradutto is born from a full block aluminum chassis, which makes it extremely durable and robust. Compact design makes it fitting to any environment, any system or home. The PCB is embedded in a solid aluminum housing, giving the board greater protection inside the housing and additional insulation from external influences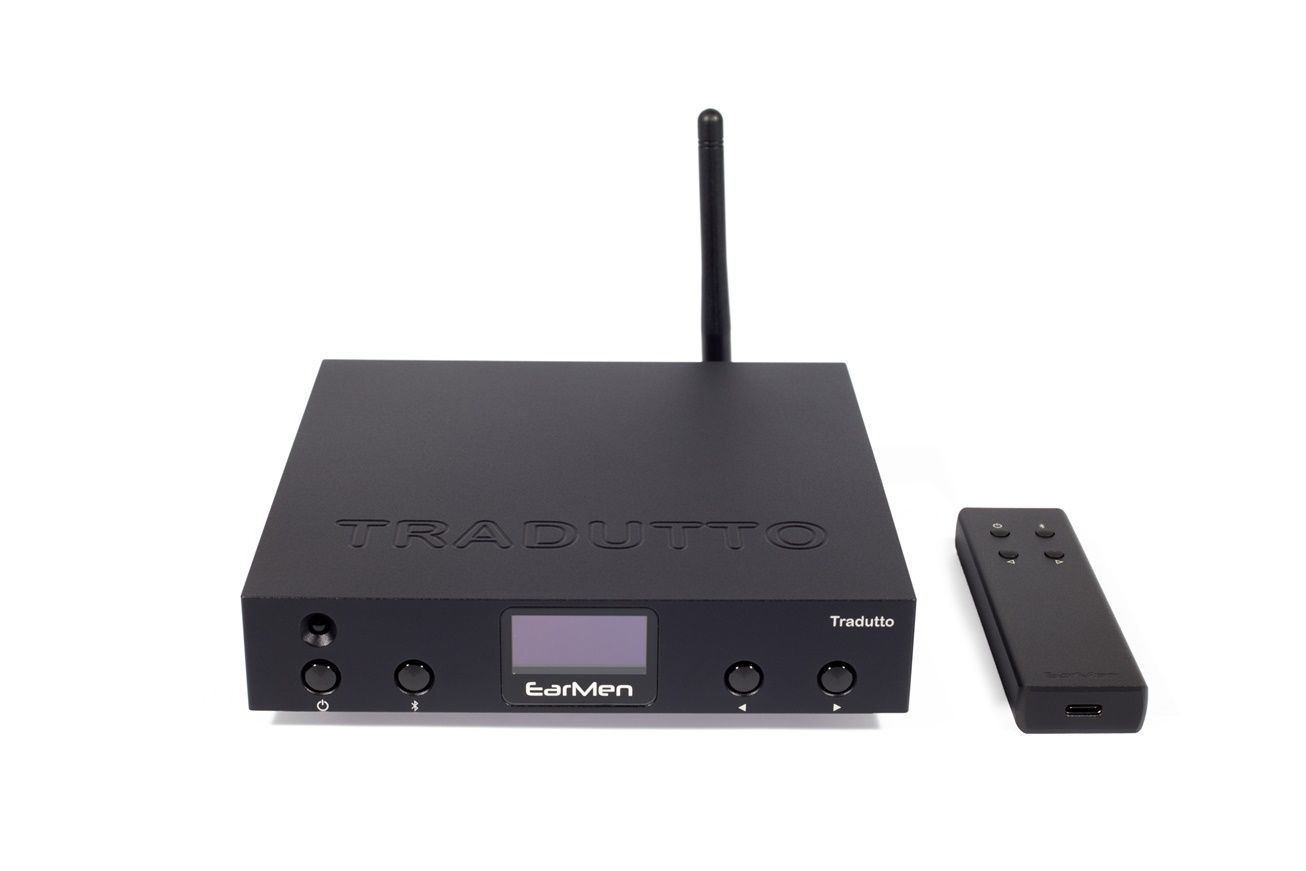 The Finest DAC Circuitry
We used XMOS with 16 cores (XU216), which with its excellent performance enabled us to hardware decode MQA as well as other necessary functions for listening to music.

The clock is carefully adjusted and has minimal jitter.

The digital and analog part of the circuit is also carefully separated by the power supply

We used wima capacitors to obtain the lowest THD, as well as audio electrolytes in combination with MELF low noise resistors and SoundPlus OPA1642 operational amplifiers which proved to be great for getting neutral sound.
Specifications
| | | |
| --- | --- | --- |
| Inputs | Bluetooth | Bluetooth 5.1  (AAC,SBC, aptx, aptx HD, aptx LL ) |
|   | USB |   |
|   | TOS Link | S/PDIF optical |
|   | COAX | S/PDIF |
| Outputs | RCA | output impedance = 300Ω |
|   | Balanced 4.4mm | output impedance = 600Ω |
|   |   |   |
| | |
| --- | --- |
| Audio Formats: |   |
| PCM | Up to 768 kHz |
| DSD | DoP64, DoP128, DoP256, native DSD512 |
| DXD | Up to 768 kHz |
| MQA  | OFS (MQA Rendering), MQA, MQA Studio |
| Bluetooth/SPDIF | 44.1kHz - 192kHz/16bit - 24bit |
|   |   |
| | | |
| --- | --- | --- |
|   | USB Input | S/PDIF input/BT |
| Output level | 2Vrms 0dBFS | 2Vrms 0dBFS |
| THD+N | 0.0003% | 0.0003% |
| SNR | >116dB | >116dB |
|   | A-Weighted | A-Weighted |
| Freq.Response | ±0.014dB | ±0.006dB |
|   |   |   |
| | | |
| --- | --- | --- |
|   | USB Input | S/PDIF input/BT |
| Output level | 4Vrms 0dBFS | 4Vrms 0dBFS |
| THD+N | 0.0003% | 0.0003% |
| SNR | >120dB | >122dB |
|   | A-Weighted | A-Weighted |
| Freq.Response | ±0.03dB | ±0.003dB |
| | |
| --- | --- |
| Dimension LxHxW | 150x30x150 mm / 5,9"x1,18"x5,9" |
| Weight | 550 gr / 1,21lbs |